Saucon Valley Manor(800) 385-2527
Summary

•

Reviews

•

Photos

•

Amenities

•

Description

•

Map

Get Costs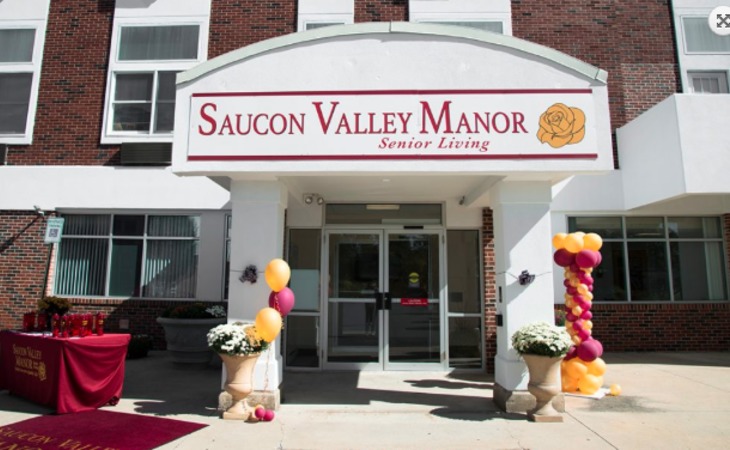 Top Nearby Assisted Living
Traditions of Hanover$$Get Cost Details
Atria Bethlehem$$Get Cost Details
Sterling Heights Gracious Retirement Living$Get Cost Details
Abode Care of Allentown$$$Get Cost Details
Bethlehem Manor$$Get Cost Details
Reviews of Saucon Valley Manor
Assisted Living Reviews for Saucon Valley Manor
April 10, 2022
By Bea
I visited this facility
We visited the Saucon Valley Manor and we chose that place for my mom. She is going to be moving there probably next week. We chose it mostly because of the location. The woman that I spoke with was outstanding. She's the admissions woman there and she was excellent. We took a tour of their assisted living, we liked the facility and the people that we met, and it just seemed like the best fit for my mom.They introduced us to some people that were there and we got to see some of the activities that were going on. The place was also very, very clean. I saw a room and they have a refrigerator there. There were a couple of courtyards too. There was a kind of a dining area with a microwave and there was also a general recreational area with TVs.
February 14, 2022
By Charlotte
I visited this facility
We toured Saucon Valley Manor, and it was a nice place. We looked at the assisted living and memory care, and everybody was very nice. They had a small place to go outside that had a grill, and they cook out there in the summertime. It's on Main Street of Hellertown, and it's easy for me to get to. The hospitals are not that far away, but it's not close to shopping.
January 13, 2022
By Patricia
I visited this facility
Yesterday, I went to Saucon Valley Manor. The tour was very good. It was very apartment-like. My sister and her husband have always lived in an apartment, so I thought, 'Oh, this looks like it's going to be a very easy transition for them if that ever happens.' I was very impressed that they always have an opening like they kind of keep things open, and I thought that in itself is marvelous. You could always move in, and I thought that was wonderful. We were just going to have to kind of figure out what they could afford as far as what type of room they got. They showed one room that didn't have a separate living area, like a little living room or family room. We thought it was very large, and they did have a little kitchen space in there, which was nice. I thought that there was plenty of room for a queen-sized bed, dressers, and then you could even use a little space to have a little sitting area where you could put maybe a love seat or maybe a couple of chairs and a little table, so it was large enough where you could do that in that one room. The one-bedroom that we saw was just marvelous. We saw two one-bedrooms and they had a kitchen space and a stove. When my sister and brother-in-law were assessed, they would be allowed to use that, if not, the stove is not turned on, which is nice. But the living area was so large. One of them had a walk-in closet; it was just perfect. The other one-bedroom we saw was large, it didn't have the walk-in closet, but it had the closet. The bathrooms were very nice and accessible. I was very happy to see that. The tour was very informative, and I appreciated being able to see the different rooms. The staff who showed me was very well informed and answered any questions that we had. She said that we could contact her if any other questions came up.
October 16, 2021
By Deborah
I am a friend or relative of a current/past resident
My mom is at Saucon Valley Manor, and it's a very nice community. It's not really big like some other places. It's small, quaint, and very comfortable. They have quite a few activities too. They have a large courtyard for entertainment and families. They have a movie room. There are plenty of rooms to do all of their activities, plus the outside as well. She's in personal care, and her room is comfortable. They have different levels. Their administrators are always available when you need help. Overall, they have a good staff. This is the best place, financially speaking, for all of the amenities to allow for seniors.
July 07, 2021
By Ashley
I am a friend or relative of a current/past resident
The entry process at Saucon Valley Manor was very easy and everyone was very helpful and informative in getting us transitioned in as easily as possible. My mom mentioned that they have Zumba and kickboxing, which is pretty funny. They have a salon, she had gotten her hair and nails done there and she said that it was great. She said that the food is really good and she's been pleased that they can order off of a menu, which she likes. So there are different options for each meal.
(Video) Dashcam Captures What No One Was Supposed to See
Provider Response
Thank you so much for feedback! We are thrilled to provide the best care for your family member. Please feel free to reach out to us with any questions or concerns that arise.Thank you!Manors Administration
June 24, 2021
By Debra
I visited this facility
We are in the process of getting my mother into Saucon Valley Manor. We highly recommend it. It was very nice, and the people were friendly and very nice. The room was very nice, bright, and roomy. The food seems adequate. It seems to be very good, like everybody else. There are options for everybody. They have a living-room area with a big TV, a movie theater, nice outdoor patios, and a rec room where they have bingo. They also have a dining area. They answered all our questions, and they were very polite to my mother too. The facility was very clean, and the room was very clean also. Because of the pandemic, activities were slow, but they're slowly getting back to things. My mother has not been there yet, but the opportunities are there and they're getting back to normal.
Provider Response
Thank you for your feedback. We hope that you become a part of the Manors family. Please feel free to reach out to us with any questions.Thank you!Manors Administration
May 12, 2021
By Marie
I visited this facility
I visited Saucon Valley Manor, and the facility was very nice. I was not too happy as far as the way you are sitting and having dinner at the assisted living. The rooms were not that bad. The staff told me that they were starting to build another 88 apartments next month on their property, which I think would be modern and would be a little different. I would have liked a more updated, livelier, and prettier dining facility. That is what I was looking for, and I just thought it was a little depressing. I only met one girl there, and she was very nice, very informative, and asked me if I had any questions. She made me feel very comfortable.
January 26, 2021
By Beverly
I am a friend or relative of a current/past resident
I had my aunt in Saucon Valley Manor for three months until she passed, and they did a very good job of taking care of her. She was total care, she was bedridden and had five strokes. They took excellent care of her. Her room was fine, but she was bedridden so it was not really of much value to her except that she was in the bed. The staff was good. It was very clean, and they were very helpful. The food was good except they would only allow her to have pureed food. It was small and for that reason everyone knew everyone. I would highly recommend them.
January 14, 2021
By Donna
I am a friend or relative of a current/past resident
My mother is in Saucon Valley Manor. I pay $3,000. They don't take any Medicaid or Medicare. The place is very clean. My mother says the food is very good. The administrative staff, I'll give them a -10. They suck; they never return your calls. However, the price is right. The place is very nice and clean. It's a big place.Since my mother has been there, I've never been allowed inside. They have activities, but since COVID-19 they're very, very limited. They have just started going back to the dining room, too. They were eating in their rooms for about a month.It's only $3,000 and you get three months free; you don't get them in a row, like you'll get this November, next November, and then the third November. They spread them out over the years. They do your laundry, and they clean your room. They have assisted living, independent living, and dementia care. The independent living is only $2,000 and it includes meals, someone checks on you twice a day, and they clean your apartment.
Provider Response
Thank you for your review.We are so happy that your mom enjoys so much about Saucon Valley ManorWe have started vaccinations and are hoping to get more visits with families. We offer facetime, window and hallway visits. I am so sorry if you have called our Administration and we have not answered. I am available via phone, text or email.We are happy to talk with you. Thank you again for the honor for caring for you mom.
April 27, 2020
By Rosemarie
I visited this facility
We're very satisfied with Saucon Valley Manor, we didn't have any problems. The floors were clean, the building was clean and the patients were they were supposed to be. Their facilities were fine and it's a large community. We saw the different rooms in the assisted living and there was nothing that I saw which made me think that I didn't like it. We went there to visit on a Saturday so I didn't see any staff. The dining room was clean but nobody was eating at that time which was around 2:00.
March 28, 2020
By Jeffrey
I am a friend or relative of a current/past resident
My father moved into Saucon Valley Manor, but he passed. It was a very nice place, good employees, very nice people, and they were almost like family when I got there. I was satisfied with the care he got.
September 04, 2019
By nanasgreat
I am a friend or relative of a current/past resident
For the money they charge there should be better care given. The food is awful, and they are completely understaffed. Sometimes my friend rings the bell and waits half hour before somebody shows up. I would not recommend this place, sorry, you need better care givers.
March 13, 2019
By Albert
I visited this facility
Saucon Valley Manor was very good, nice, clean, and big. The staff was fairly nice. It was just a little bit too much of a distance to travel to visit my mother.
November 01, 2016
By Barbara677810
I am a friend or relative of a current/past resident
Saucon Valley Manor is very comfortable, and my mother-in-law is overjoyed to be in a place where her basic needs are met. Her room is adequate with a bathroom, and she shares it with another lady. I think the food is good and adequate, and she likes it a lot. I would say that for the price, it is very above average, and it has a good vibe about it. In general, we're happy.
September 11, 2016
By VN
I am a friend or relative of a resident
I know someone at Saucon Valley. The place is beautiful, and the rooms are beautiful, but the staff is not good. The nurse doesn't come often, and the med techs are not good. There are a lot of older people in their 80s or 90s there. There is no special diet, but the food is good. Most of the apartments are very large and spacious, and they have shared rooms with a separate door to the bedroom. They should hire more competent med techs and more accessible nurses. They also need coordination when someone wants a private doctor.
August 22, 2016
By Cyndi334847
I visited this facility
We went to Saucon Valley Manor. It was very simple without any glitz or glamour. The units were different sizes, so you had really small one-bedroom units or an OK-sized one-bedroom, but there weren't any two-bedrooms units that we could see. They were all on the 2nd level, and you had to be approved for them, so we couldn't even get to see them. They had a lot of restrictions. The staff was very accommodating.
Provider Response
We're sorry to hear that you weren't able to see all that Saucon Valley Manor has to offer on your first visit. Saucon Valley Manor now features updated accommodations with two brand new buildings including modern, single and double rooms with spacious living areas, and a brand-new activities room and dining areas. Please feel free to contact us and we would be happy to show you our beautiful new facilities.
May 10, 2016
By Patricia123472250
I visited this facility
I visited Saucon Valley Manor for myself and didn't like it. The rooms weren't very nice and cheerful. I was not impressed at all. There was one person that helped me into the restroom, who was very polite and helpful. The manager was very nice. The rooms were depressing.
April 23, 2016
By Donna97256850
I am a friend or relative of a resident
My relative likes being in Saucon Valley Manor's assisted living program. They take care of her and are very friendly. She has a nice room with a microwave and a little kitchenette, and she can take her own food in. She enjoys it. The dining area is nicely set up. The facility is clean and spacious.
March 28, 2016
(Video) 12 Craziest Restaurants That Actually Exist
By A Loving Son1
I am a friend or relative of a resident
My father stayed at Saucon Valley Manor. Affordability and the levels of care available were the reasons why we picked them. He was in the restricted access unit and had excellent care. The place was clean. He had such a good appetite, so the food had to be OK. He has dementia, so he cannot comment about how good the food was, but he ate every day. They had some activities. I appreciated that on Sundays they had church activities, and we could participate. I really liked that the caregivers seemed to care about the people, and it was not just a job to them.
October 28, 2015
By Stephanie37
I am a friend or relative of a resident
We chose Saucon Valley Manor for my dad, and he has been there for a month already. Their staff is very accommodating. If you have any problems, you can talk to them. They take care of it rather quickly. Everybody is pleasant, and everybody knows his name. So far we haven't had any problems.
July 28, 2015
By Anonymous109686350
I am a friend or relative of a resident
The staff was very nice at Saucon Valley Manor. They answered the questions that I had. Parking was very convenient for any visitor. My mom's room was quiet. They had bingo, and they had a craft room.
July 20, 2015
By Deborah111016450
I am a friend or relative of a resident
Saucon Valley Manor is extremely nice. It is very clean. Everybody seems very happy. I really like the place. The staff is wonderful. They check on my dad every two hours, which is a good thing. They get him out of bed and make sure he eats three meals a day. He is in a private room, and it is extremely clean, spacious, and nice. I am very happy with it.
February 10, 2015
By Caring105884650
I am a friend or relative of a resident
I chose Saucon Valley Manor as the people were very interested. The price was good. So far I'm very happy with what they've done for my mother.She gets help to get to the bathroom, to be put in bed, and they take her to the dining room. They administer medicine, and I am satisfied with the services.
July 20, 2014
By Rose Ann
I visited this facility
One thing that is nice about Saucon Manor is a doctor's office is attached right next to the building. You could use their door or walk right through. In other words, you don't need to go outside. They also have therapy and exercise rooms right there. That was kind of nice, too. However, it is an old schoolhouse that they converted into a home. It didn't seem homey; it seemed business-like. And it was too overwhelming. I thought it was a little too large for my mother.
July 15, 2014
By Robert1030
I visited this facility
There's no other place like Saucon Valley Manor! Great staff, great food, nice clean facility.
June 03, 2014
By Happy in Hellertown
I am a friend or relative of resident
Very good Assisted Living. Clean, Good Care. Highly recommend bringing your loved ones.
April 05, 2014
By Pryan
I am a friend or relative of resident
This was the worst experience! My mom was so unhappy that i could not keep here there, it's scary how this place is even still open. Anyway, the point is my mom needs help at night and this place cannot provide this sort of help, although they would market their great service. I highly recommend you find another place for your loved ones
March 14, 2014
By xhuyan
I am a friend or relative of resident
Worst place ever! I had to move my mom after less than a week!!! The staff was rude, the care mediocre, and it took her for ever to get any assistance when she really needed it. To make this even worse the owners are sleazy and not well respected in the community.
December 27, 2013
By Unknown2014
Other
I would not recommend any loved ones to this faculty, I really believe this place should be shut down.the food is not all that great.the care for these residents needs to be alot better.the rugs in this facility needs to be changed they are very nasty.at lot of the staffing members are very rude need to be more professional.
April 24, 2013
By Caring3762
I am a friend or relative of a resident
My mother stayed at Saucon Valley Manor for about 3 to 4 years. I liked the rooms because it was all unique and designed differently. There were both mobile and immobile residents in the facility. I thought the level of care given for the immobilized residents were not enough. There were plenty nurses on the day shift and they were good. I had problems with the second and third shifts. There was just not enough staff to attend to the needs. I have also tried the food. It was okay. I thought the portions were small but it was enough for the elderly.
September 12, 2012
By felloverit
I am a friend or relative of a resident
When she originally began staying there, the care providers were rather pleasant and nurturing, as the months rolled by, the staff began to change, and it was obvious, that the employees the residents would now come to know, were younger, less caring, and unable to relate with the residents. From my experience, I've taken notice to a rather lethargic disposition among even the resident she shares her living space with, Christine. I would never refer this care facility to anyone, as even the sister facility (Whitehall Manor) is revered as a better location.
April 12, 2012
By VictorP
I am a friend or relative of a resident
The assisted living facility was very nice. While the building looked a little old, the rooms were roomy and clean. The staff was very friendly and kind. If you had a question or needed assistance, they had no problem helping you. The cleaning staff and dining room staff were also very friendly. The rooms were spacious and set up in a way so that the residents can easily move around and get to each room. There were a lot of safety features as well. I also liked how there was a precise fire escape plan. Another aspect I enjoyed were the activities. There were different rooms for different activities to entertain the residents. I liked where the facility was located. It was in a safe neighborhood next to a bank and a police station. There was also various food joints and restaurants around in case a resident did not like cooking. It was in walking distance to churches, parks, a pool, and a laundry mat.
June 24, 2011
By SushyGeara
I am a friend or relative of resident
I had a uncle living in the saucon valley manor I visited him often they took good care of him the staff were friendly and helpful,The housekeepers were also nice and were his friends one by the name of valerie was his favorite housekeeper she would bring him fruit snacks and he will be so happy she will help him get on his wheel chair when needed,My uncle's barber in the facility was good at her job,the activities in the facility were bingo,sing alongs,sewing,and more.My uncle did not like the food much but he will eat it anyways cause he new it was good for his health,The hallways in the facility were always clean but I believe the rooms could have been cleaned more often and would have air freshener thought the building,The parking was too far from the building and was not nicely landscaped,So I would give this facility a 3.
(Video) Review: HO riverossi passenger coaches
See all Assisted Living reviews (33)See fewer reviews
Independent Living Reviews for Saucon Valley Manor
August 22, 2021
By Linda
I visited this facility
The Saucon Valley Manor independent living was very clean. It had updated appliances, offered all kinds of amenities to the senior citizens, and the staff was very friendly. The apartments were beautiful. They have doctors and nurses on staff, the food, and the activities. They have games, movies, and the same things that every other place offers. Its location is in a very nice area.
August 10, 2021
By Edward
I visited this facility
We went to Saucon Valley Manor. The facility looked fine, and everything else as we expected. It was very well run, very sociable staff management there, and it was smooth. The suitability would merit consideration.
November 10, 2020
By J.M.
I am a friend or relative of a current/past resident
I found Saucon Valley Manor for my sister. She likes it, but there's nothing majorly wrong, it's very adequate, and I feel like I've looked at a lot of places. It is the best thing for the money. They provide everything, they take her to the doctors' office, and they don't charge me for that. There have been no extras here and there, and I really feel like it's a really good value for what I'm paying. She has just a nice, large room, with a private bathroom. There have been no trips, but they have parties, picnics, and at least once a month there's something fun and special. It had been a high school, but it's nothing fancy, it's not first class, but it's clean, and it's in good shape. It's in a pretty area, it's right on the main street, but behind it is woods, and in between the buildings they have a big tent set up with picnic tables so they can sit out there, and they have their picnics and activities.
May 30, 2019
By S.J.N.
I visited this facility
I visited Saucon Valley Manor. The apartments were brand new, so people were just starting to move in. It was a really nice place. Their dining room was very social since people were there visiting. They had soda, coffee, and donuts out all day long for people. The apartments were gorgeous; I was really impressed with that. They had a one-bedroom. They served two meals a day for $3,000, but the apartments had full kitchens. I was not ready for a place where I have to eat in the dining hall, and I want to do my own cooking. I wouldn't rate them a 5 because of the location since they're in a downtown area, I wasn't thrilled with a city right around the parking lot, and there was no place to go out for a walk. The staff member answered all my questions. She was very nice, did not pressure, and told me what's going on.
March 14, 2019
By Elliot
I visited this facility
Saucon Valley Manor is definitely affordable. The fit and finish is not near as nice as the other places, but that's how they kept the cost down and so it is appropriate. They are what they advertised. They're not trying to say that they're anything better than they are.The assisted and independent living units are small; it is only a four-unit building. It doesn't look expansive. On a population basis, it is adequate, but it appears small when you go to visit compare to other places.They have exercises, board games, trips to the casino, and transportation. The staff members are all very nice and very receptive. Saucon Valley Manor were the only ones that offered to knock down the price a little bit; they said that they could work with us. They offer three meals a day as well.
See all Independent Living reviews (5)See fewer reviews
Memory Care Reviews for Saucon Valley Manor
June 26, 2022
By Judy
I visited this facility
I thought Saucon Valley Manor would have been a good place for my husband. It's just close to me and we could visit him frequently. We toured the memory care and there's an area where they can go outside. The lady who assisted me was very nice and was very helpful in explaining things to us and showing us around as many areas as she could. They have a room where they can do some artwork or whatever they would be able to do, which is good for them. They also have a nice sitting room with a TV where a lot of them join together. I think I would go with a 3 rating for now without actually knowing more and having more experience about the facility.
June 22, 2022
By Monica
I am a friend or relative of a current/past resident
My husband is now at Saucon Valley Manor. He's in the locked unit. They separate those who have memory care or memory brain diseases from others. They do activities, and they take them outside. They are A plus when it comes to the care of the family member. He is pretty much in the highest level of care. If it was a 1 through 5, he'd be getting a 5 because he has a brain disease that acts like Alzheimer's, so he's been being treated like an Alzheimer's patient and he is getting the utmost comfort care. He's there for palliative care, and they're doing very well in getting his medication to him. If he refuses it, they wait and then they give it to him at a better time. They don't force it on him. However, he's very upset because I can't see him every day. Their hours don't allow me to see him every day. My only complaint would be their visiting hours and their arrangement. I'm waiting for them arrange for me to go see him regularly. My husband does not have Alzheimer's. He has a disease called cerebral amyloid angiopathy. It is a very rare brain disease; however, it acts like Alzheimer's and dementia. The level of care he has received has been wonderful. They know that he gets upset when he can't talk to me or see me, so they approach him quietly and talk to him before they try to get him to eat anything. That's been hard because he's pretty stubborn.I had tried their food, I had chicken noodle soup, and it was very good. It was a little bland because older people shouldn't be retaining water, so they don't have a lot of salt in it. Otherwise, it was fresh, and it was very good. It's a beautiful facility. Compared to other places we looked at, the value for the money is very good.
August 04, 2021
By Frank
I visited this facility
I looked at Saucon Valley Manor. I really didn't like it because of the congestion on Main Street. I really didn't like the memory care. It was outdated, and it had long hallways. The passageways had door buttons and all that kind of stuff for security. I can understand that. There's one little space to go outside. The staff was fine.
Provider Response
Thank you for your review!Unfortunately, we cannot control the construction of crosswalks in the Borough of Hellertown. We have been named the best Assisted Living and Memory Care four years in a row. The care and staff are phenomenal. WE pride ourselves in providing the best senior living services to our residents and families. Thank you !
June 03, 2021
By Naomi
I am a friend or relative of a current/past resident
My husband has been in Saucon Valley Manor for three weeks now. He is supposed to go to therapy. They are supposed to be evaluating him and putting him into a different area, but they really have not done anything since he has been there. The staff seems very caring enough, very polite, and gave me a nice tour. The place is clean, and everyone seems happy there. They are very helpful and very nice people.His room has a single bed with a dresser and a closet. He has a roommate, so it is two people in a room. He is supposed to be moved to a private room, but I have not seen it yet. They have a barber shop and a beauty salon. They are supposed to be giving him physical therapy. He is in the memory ward now, so it is sort of confined. They are not able to go out. They could get a half hour visit downstairs after you make an appointment. I really haven't interacted with the staff except the person at the front door, but they have been very polite and very helpful. The facility is very nice and very comfortable. It is very affordable.
March 06, 2021
By Charlene
I visited this facility
Saucon Valley Manor was very clean, very bright, and very cheerful. The rooms were large with big windows around so they looked very bright and nice inside. I was looking at a double room, so it had these two beds, big, tall dressers that the residents can use, and a large closet. Some of the units actually have a kitchenette style with cabinets and sinks. The staff in Saucon Valley Manor was very good as well. They answered all the questions I had to the best of their knowledge and explained everything. They have a special activity room where they take people to do bingo, cards, and music. They do exercises too and you can get your hair done in the place.
Provider Response
Thank you very much. We appreciate your kind words. Have a great day
April 13, 2019
By Tina
I am a friend or relative of a current/past resident
I moved my mother to Saucon Valley Manor and she has been good where she's at. Her room is very nice. She's in a shared room, they each have a dresser, they share a table, and they have an armoire, and a pretty big bathroom. So it's a very comfortable room. They have a lot of activities, but my mom's dementia is a little more progressed so their entertainment is movies, music, and people that come in to sing to them. They also do crafts, they paint their fingernails and things like that. The staff who works there is very friendly, and to me they're awesome. They have been very nice to my mother and my family. My mom has also eaten stuff that she hasn't eaten before there, and the food also looks good. For the amount of money, compared to another place we saw, the quality is awesome.
December 09, 2018
By Anonymous
I visited this facility
Saucon Valley Manor is a place that they retrofitted into a memory care/assisted living care facility and it was absolutely awful. I wouldn't put my worst enemy in there. The building was rundown looking and the staff was uninterested, bored, and looking to get out of work. As soon as I walked in we knew we weren't going there. It just turned me off. They had some activities, but I didn't really like the look of the place.
(Video) The Harsh Reality About Pre-fab Homes and Why I Won't Ever Buy Them
Provider Response
Hello. We are sorry that you didn't enjoy your visit at Saucon Valley Manor. We hope that you stop by again to see why so many happy residents enjoy living here.Most of our well trained staff has been woth us for over 7- 10 years. They give great care and truly go give their all to our residents and support the families. Weare available 24/7 and give the. Best care WE WERE NAMED BEST PERSONAL CARE AND ASSISTED LIVING IN THE LEHIGH VALLEY 2 YEARS IN A ROW.OUR BUILDING HAS HISTORY AND SOME OF OUR RESIDENTS WENT TO SCHOOL THERE.IT IS CLEAN AND WELL MAINTAINED WE HOPE THAT YOU VISIT AGAIN AND SEE THE BEAUTY INSIDE
See all Memory Care reviews (7)See fewer reviews
Get Costs
Photos of Saucon Valley Manor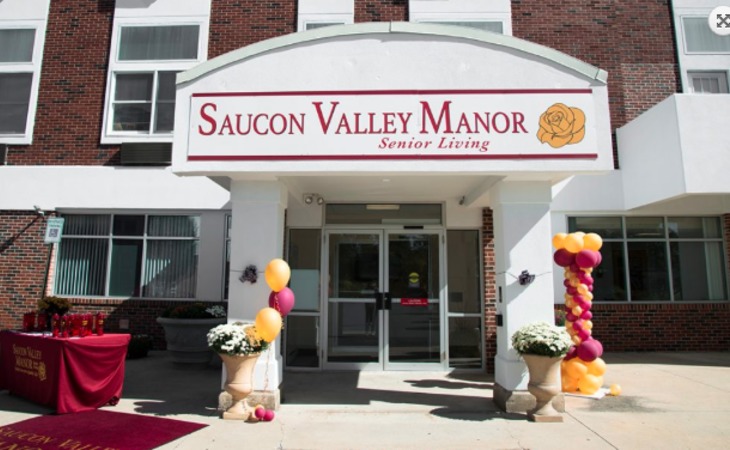 Get Costs
Services and Amenities of Saucon Valley Manor
Costs
All Inclusive Rent
Entry Fee
Room and housing options
1-bedroom apartments
Companion Suites:

We Do Offer Companion Suites

Studio Apartments
Housing Extra:

22 Capacity
Dining options
In Room Kitchens
Dining Room Shared Meals
Features
Party Space
Hiking Trails
Tv Room
Features Extra:

Heating And Air Conditioning System
Technology and entertainment
Technology Extra:

Sprinklers And Smoke Detectors, Door Monitoring And Locking Systems, Mag Lock And Wanderguard Systems, Personal Emergency Call Response Systems, Safety And Security Systems, 24 Hour Fire Security System With Automatic Fire Department Dispatching
Activities
Offsite Activities
Music
Games
Stories
Religious Services
Lectures Discussions
Wii Sports
Arts And Crafts
Activities Extra:

Movie, Shopping
General
Resident Capacity:

260

Respite Care
Pets:

No Pets Allowed
Range of services
Range Of Services Extra:

Escorted Services, Musical Therapy, 24 Hour Assistance, Palliative Care, Manicure And Massage
Licenses
State Licenses:

230070 - PERSONAL CARE HOMES
Get Costs
About Saucon Valley Manor
Is this your business?
Saucon Valley Manor, located in Hellertown, PA, offers several levels of care including: Independent Living, Personal Care, Advanced Physical Care, and three levels of Secured Alzheimer's (Memory) Care. We provide exceptional all-inclusive senior care services, featuring a staff of highly-trained care providers, a warm atmosphere and a safe environment.
We offer care for every resident according to his or her specific needs at Saucon Valley Manor. We pride ourselves in being an all-inclusive facility. We are an all-inclusive facility, which means there are no buy-in or hidden fees. We offer long-term stays, as well as short-term respite stays and month-to-month leasing options.
Our staff is experienced and professionally trained in all aspects of senior living. By maintaining an excellent team of knowledgeable and helpful care providers, we are able to ensure that our residents feel comfortable and at home. Our team is honored to provide you or your loved ones with quality care for a quality life.
Get Costs
Map of Saucon Valley Manor
Senior Living Communities near Northampton County, PA
Bucks County

Lehigh County

Hunterdon County

Montgomery County

Carbon County

Warren County
Senior Living Communities near Hellertown, PA
Bethlehem

Allentown

Quakertown

Easton

Whitehall

Phillipsburg
Other Senior Care in Hellertown, PA
All Home Care

All Senior Care
More Senior Care near Hellertown, PA
Assisted Living in Brooklyn, New York

Assisted Living in Philadelphia, Pennsylvania

Memory Care in Yardley, Pennsylvania

Memory Care in West Chester, Pennsylvania

Independent Living in Bethlehem, Pennsylvania

Senior Care in Philadelphia, Pennsylvania
Helpful Articles
11 Signs It Might Be Time for Assisted Living

Nursing Home, Assisted Living, or Independent Living?

Assisted Living or In-Home Care?

Assisted Living Checklist: What to Look for, What to Ask

Cost of Assisted Living

How to Pay for Assisted Living

How Levels of Care Affect Assisted Living Cost

Tips on Moving to Assisted Living